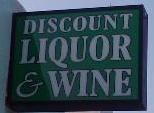 We are located at 1133 Estero BLVD on the north end of the island next to McDonalds. Feel free to call us at 239-765-9463 for any question about our inventory, special requests or directions to the store.

Our hours are 9:00am till 10:00 pm Sunday - Thursday, and from 9:00am till 11:00pm on Friday and Saturday.

We have the largest selection of liquor, wine and beer on Fort Myers Beach. If you would like to view our inventory, feel free to check out our facebook page at

http://www.facebook.com/pages/FMB-Discount-Liquor-and-Wine/323910364345143

Like us on Facebook to recieve daily specials and to be notified of special items as well as a map to the store.

Comming soon is a webcam overlooking Crescent Beach so be sure to check the conditions of the beach if you are thinking of comming and playing in the surf and sand.